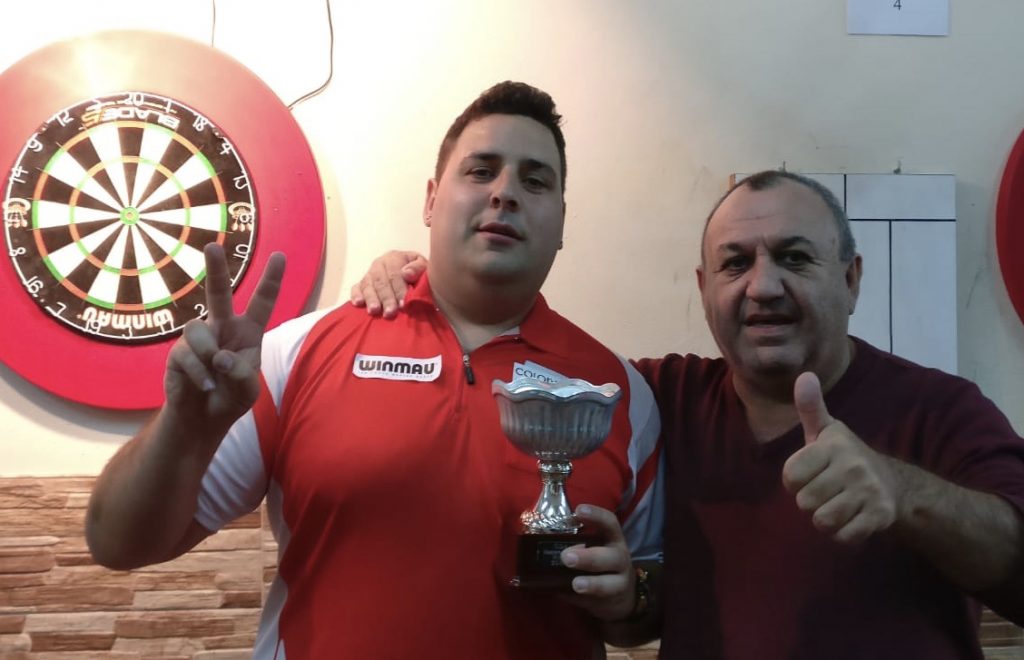 Dyson made winning look easy as he continues to dominate darts in Gibraltar, with a relatively smooth win in the recent Gibraltar Masters. After a bye in the first round he beat Isven Efginio 4-0, Justin Hewitt 5-1 and Sean Negrette 5-1 to make it to the final, in this match Dyson hit a brilliant 10 dart leg. 
In the other half of the draw, the GDA President Tony Dawkins rolled back the years to win through to the final, beating Jeremy Cruz 4-0, Roy Asquez 4-0, Jarvis Bautista 5-3 and Craig Galliano 5-3.
The final saw a slow start from Dyson who lost the first leg, and only narrowly won the second. After that though, it was business as usual, with Dyson taking the next four legs comfortably. There was a late flurry from Tony, who won the 7thleg in 15 darts, but then Dyson finished it off in style, winning the match 6-2.
Special mention must go to the youth players who continue to flourish in the adult tournaments. Justin Hewitt had a great game against Christian Tosso, winning 4-3, and Sean "King" Negrette had a particularly exciting game, narrowly beating Justin Broton 5-4 in the quarter finals. Craig Galliano was also on top form early on, beating Carlos Munoz 4-1, George Ramos 4-1 and Antony Lopez 5-2
A total of 25 180's were hit during the evening: Dyson Parody 6; Justin Hewitt 6; Craig Galliano 4; 2 each from Tony Daawkins, Keith Medhurst & Sean "King" Negrette and 1 each from Antony Lopez, Ethan Smith & Christian Tosso. 
There were also high finishes of 110 from Francis Remorino, 121 from Christian Tosso, 132 from Sean "King" Negrette & 135 from Tony Dawkins.
Congratulations Dyson, Commiserations Tony!