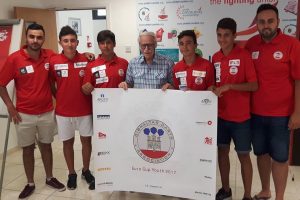 The Gibraltar Darts Youth team will be heading off to Malmo, Sweden on Wednesday for the 2017 WDF European Youth Darts Cup, the event is played in Singles, Pairs and as a Team.
The team is Jerome Duarte Chipol, Craig Galliano, Justin Hewitt & Sean Negrette with Jeremy Cruz and Alex Nuñez as managers. The parents of the four kids will also be travelling with the squad.
The GDA Youth commitee would like to thank Target Darts & Argus Insurance who have been the main sponsor of Youth Darts, the GSLA and all of the other local sponsors who have helped them make this trip possible. Thanks to A.Souile Audibert, C.K Transport ltd, GJBS, Hassans, Kenneth Navas Lawyers, Masbro Insurance, Moreno 2000 ltd, Meddoc, Robvia & Retsso. A big thanks also to Calypso Tours for providing the transport to Malaga Airport.
A special mention to the honourable Mr Joe Bossano for taking his time to come and visit the team and also to the Chief Minister Fabian Picardo for taking his time to invite the team to his office to meet the boys and wish them success.
We would like to wish the squad safe travels and the best of luck!