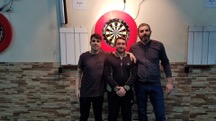 The "True Glacis" team wins the 2019 GDA League Trebles 
The "True Glacis" team of Jarvis Bautista, Nicky Cumbo and Carlos Muñoz fought hard to take this year's league trebles title, held recently at the College Cosmos Club.
Nine teams turned up to play a cheerful and good natured event, which produced some exciting, high level games and close results.
In the quarter finals "True Glacis" beat "Team Mates" (Harry Parody, Shane Smith & Adam Orfila) 3-1, then went on to narrowly beat "The Impossibles" (George Ramos, Francis Taylor & Karl Mena) 3-2.
The final turned out to be a classic match, with "True Glacis" facing the youth team "Three Bro's" (Craig Galliano, Sean Negrette & Justin Hewitt). It was anybody's game, with high scores coming from both teams, but the youngsters missed a couple of opportunities, and "True Glacis" won the match and the title 3.2
There were three 180's on the night, two by Graig Galliano, and one by Dylan Duo.