A total of 14  youngsters came down to participate in the third Youth Ranking of the season which took place on Saturday 20th January 2018.
There is a total of 6 ranking events to be played in the season, so this meant that after this event we would be half way in knowing who will finish in those important top 4 places.
The top 4 players at the end of the season are the ones who earn a spot in the Youth European Cup squad.
In this ranking event there were a few changes in the seedings, surprisingly for some Craig Galliano who won the first two ranking events has dropped out of the seedings. Ethan Smith is now the Number 1 seed, Jerome Chipol #2, Justin Hewitt #3 and Sean Negrette #4. These seedings will stay the same for the remaining  ranking events of the season.
First Round
In the first round there were comfortable 3-0 victories for Jayc Alecio over youngster Kyle Mor and Kaylan Franco against youngster Keith Medhurst Jnr. Other results saw Nico Bado, the youngest player in the academy defeat newcomer Kadrian Martinez 3-1 to record his first ever victory in a ranking event. The number three seed Justin Hewitt got the better of a much improved Liam Santos 3-0 and Dylan De Los Santos who only recently got promoted to the First division managed to defeat Joseph Ward in a tight affair 3-2. However, the standout tie of the first round was Sean Negrette against Craig Galliano. Two of the top players faced off in the first round and what a game it was. Craig, who had won the two previous rankings was outscored by Sean in this match and surprisingly he lost the game 3-1 but all the credit goes to Sean for a brilliant performance.
Quarter-Finals
In the quarter-finals there were straight forward 3-0 wins for the four seeded players. Ethan Smith defeated Jayc Alecio, Sean Negrette defeated Kaylan Franco, Jerome Chipol defeated Dylan De Los Santos and Justin Hewitt defeated youngster Nico Bado.
Semi-Finals
In the first semi-final game Sean Negrette came up against Ethan Smith. Both players scored consistently throughout the game however Sean was more clinical on his doubles and in the end this is what gave him the advantage in this tie as he won the game 3-1.
In the second semi-final Jerome Chipol came up against Justin Hewitt. Both these players faced each other in the previous ranking event and that tie was won by Justin. Once again, Justin's scoring and crucial double hitting was too much for Jerome to handle, Justin won the game in straight legs 3-0.
Final
Justin Hewitt, who already has two final appearances this season against Sean Negrette who was playing in his first final of the season. The final promised to be a great final as both players had put in brilliant performances throughout the day and indeed it was a great final!
Sean got off to a brilliant start and took the first two legs of the game in quick time. However, Justin came back with heavy scoring and took the next leg, he also won the following leg with a brilliant 80 checkout to get the game back level 2-2. The next leg Sean managed to crucially hold his throw and retake the lead 3-2. The next leg was crucial for Justin as he was just one leg away from losing a third successive ranking final. He managed to take the next leg with a crucial double 20 and tied the game 3-3.
The game went all the way to the last leg and to be fair it was anybodies game, but it was Justin who managed to hit the winning double with his last dart in hand to take the title and win his first ranking event of the season.
We would like to thank Gibtelecom for Kindly sponsoring this event!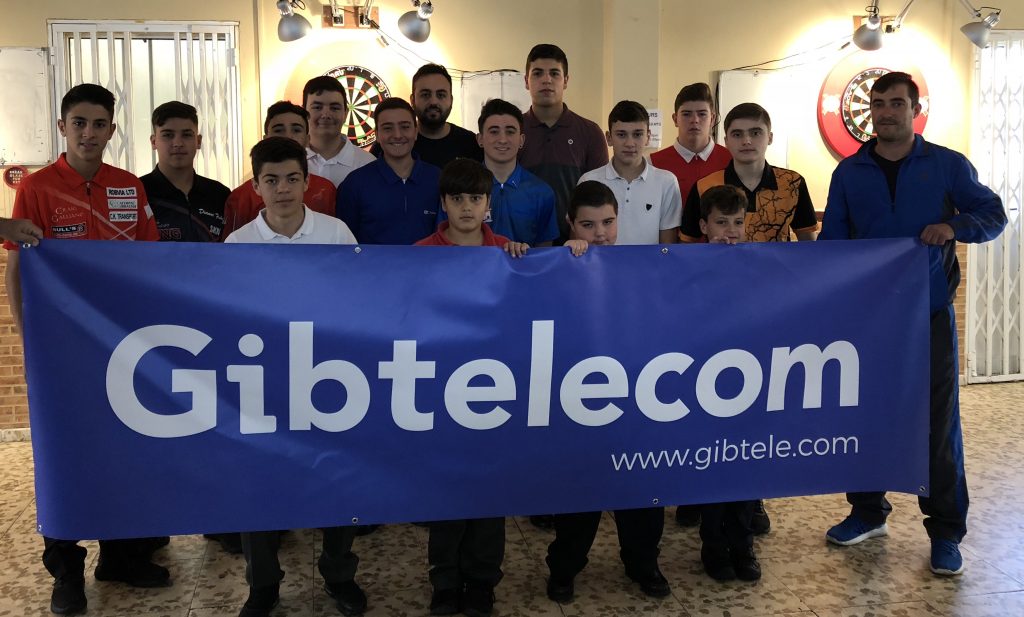 Last 16 Results
Ethan Smith BYE
Jayc Alecio 3-0 Kyle Mor
Kaylan Franco 3-0 Keith Medhurst Jnr
Sean Negrette 3-1 Craig Galliano
Jerome Chipol BYE
Dylan De Los Santos 3-2 Joseph Ward
Nico Bado 3-1 Kadrian Martinez
Justin Hewitt 3-0 Liam Santos
Quarter-Final Results
Ethan Smith 3-0 Jayc Alecio
Sean Negrette 3-0 Kaylan Franco
Jerome Chipol 3-0 Dylan De Los Santos
Justin Hewitt 3-0 Nico Bado
Semi-Final Results
Sean Negrette 3-1 Ethan Smith
Justin Hewitt 3-0 Jerome Chipol
Final
Justin Hewitt 4-3 Sean Negrette
Congratulations to Justin Hewitt and commiserations to Sean Negrette!
180's
Ethan Smith x1, Jerome Chipol x1 & Justin Hewitt x1.
High Finishes (+100)
Jerome Chipol 100.
Jeremy Cruz caught up with Justin after the final for an interview…
So Justin, after back to back final defeats you have finally ended up on the winning side this time, you must be pleased with this result? "Yes I am extremely pleased with my performance today, especially because like you mentioned I had lost two finals in a row but this time I was able to control my nerves and hit that crucial match winning double"
Considering you weren't feeling too well throughout the week, surely you did not expect to go all the way and take the title? "Considering I was sick all week in bed without even throwing a dart I honestly thought I wasn't going to make this event, but in the end it was a good thing I did!"
After seeing Craig Galliano (the player who defeated you in the two previous finals) lose in the First Round this must have given you a boost to go on and win the title? "To be honest when I started to get my range on the board and started to feel comfortable I was ready to face anyone, when I saw Sean defeat Craig I knew that Sean was going to go far in this event."
You defeated your doubles partner Sean Negrette in the Final, this must have been a tough match for you to play against one of your best friends in darts? "Its always hard to play against a good friend and a teammate but when we are both fighting for the same title the friendship is the last thing that goes through your mind."
With this result you go first in the Rankings but more importantly it gets you closer to securing a top 4 place, how confident are you that you will end up in the top 4 and secure your place in this year's European Youth Cup? "After reaching three finals and winning one I think this has put me in a good position to qualify again this year, however I will not think about this and I will continue to give it my all in the remaining ranking events."
Finally Justin, what would it mean for you if you made the European Cup Squad again? "If I were to qualify again for the European Cup I would be really proud of myself and it would mean a lot to have the honour of representing  my country abroad."
Below is the updated Ranking List.