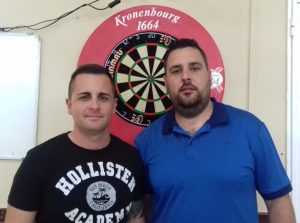 "Dyson Parody strikes again – 3rd Ranking win of the season"
The GDA's 6th Ranking Tournament of the season, the Joe Goldwin Singles, took place with 39 players registering. This is the last seeded ranking tournament this season, leaving just the non-seeded National Champion to be played.
Seed No 2 Manuel Vilerio was the first seeded player eliminated, losing his 2nd round match 3-1 to eventual semi-finalist Dylan Duo. George Federico (Seed No 3) progressed to the Quarter Final which he lost to an on form Antony Lopez in a close match 4-3. Seed No 4 Justin Broton progressed smoothly through to the semi-final, conceding only 1 leg on the way, with Seed No 1 Dyson Parody reaching the semis without losing a single leg.
Dylan Duo V Antony Lopez – a close game with both players throwing some excellent darts. With the match levelled at 4-4 Dylan missed his double to claim victory, leaving Antony needing a 120 popularly known as a "Shanghai". Anthony kept his cool and checked out the 120, securing a place in the final.
Dyson Pardoy V Justin Broton – Another fiercely contested match with some great darts. Dyson's scoring was too strong for Justin to keep in check, with the score ending 5-2.
FINAL
Dyson Parody Vs Antony Lopez
The final started off very close with Antony Lopez claiming the 1st leg, with both players claiming alternate legs bringing the score to 3-3. Dyson could have been ahead at this point but a number of missed doubles kept Antony in contention.
Dyson finally gained the advantage in the 7th leg, checking out a double 8. He then powered ahead in the next 2 legs, hitting a 180 in each, but Antony still kept his cool and was not far behind in either. After a few missed doubles Dyson hit a double 5 and secured the win 6-3.
Final Score Dyson Parody 6-3 Antony Lopez.
A total of 19 x 180's were thrown and 3 x 100+ finishes recorded.
180's – Dyson Parody x 6, Dylan Duo x 5, George Federico, Justin Broton, David Francis x 2, Tony Dawkins, Carlos Muñoz x 1.
HF's – Antony Lopez, 136, 120, 101
Commiserations to Antony Lopez, Congratulations to Dyson Parody!
Route to Final;
Dyson Parody defeated Sean Negrette, Jeremy Cruz, Tony Dawkins, Justin Broton.
Antony Lopez defeated Steven Borge, Nathan Old, Justin Hewitt, George Federico, Dylan Duo.
The top of the GDA Ranking list as follows;