Antony Lopez whitewashes Dyson Parody to claim his first ever senior ranking title!
Antony Lopez won his first ranking title after a brilliant display which only saw him drop a single leg on the night. Antony's route to the final saw him claim wins over, Francis Remorino, Dylan Duo, Carlos Munoz, Sean Negrette and Justin Hewitt.
Early Rounds
The early rounds saw some of the top players go through  with relative ease. The first round also saw Antony Lopez get the better of his fellow College Cosmos team mate Dylan Duo with a 3-0 win, despite the scoreline the game  was a tight affair. Sean Negrette managed to get the better of an experienced Jimmy King 3-1.
On board two we also saw Roy get the better of his brother Eric Asquez with a 3-1 win. On board three we also saw the 10 times National Champion George Federico lose against Manuel Vilerio 3-2 in a tight match which saw Manuel holding his nerve to complete his comeback. On board 4 we also witnessed Justin Hewitt take out his fellow Mons Calpe team mate Jarvis Bautista who has been the inform player in the GDA for the past month, Justin managed to get the better of him 3-2 in a last leg decider.
Quarter Finals
Board One: Antony Lopez claimed a 4-0 win over the inform youth star Sean Negrette. Antony continued his run of whitewashes going into the semis.
Board Two: Dyson Parody beats Christian Tosso 4-1.
Board Three: David Francis gets the better of his fellow team mate Dayle Ramirez 4-1.
Board Four: Youth National Champion Justin Hewitt defeats GDA President Tony Dawkins 4-1.
Semi Finals
Board One: Dyson Parody beats David Francis 5-4 in a last leg decider, Dyson took out some big finishes to see out his follow team mate David Francis who had got off to a good start. But it was Dyson who held his nerve to book his place in another final with a magnificent 155 checkout to win the tie.
Board Two: Antony Lopez got the better of the Youth National Champion Justin Hewitt with a 5-1 win. Antony continued his brilliant display of scoring and finishing, however young Justin Hewitt managed to get a leg off his opponent, which turned out to the the only leg he dropped all night.
Final
Antony Lopez wins the bull!
1st leg – Antony Lopez quickly storms into a 1-0 lead.
2nd leg – Antony hits several 140s to claim the leg dispute Dyson's 180.
3rd leg – Antony takes out double 12 leaving his opponent on 161.
4th leg – Antony hits double tops for a 4-0 lead
5th leg – Antony continues to score heavily giving him a 5-0 leag.
6th leg – Antony Lopez hits the bull in remarkable fashion to claim the win and his first title.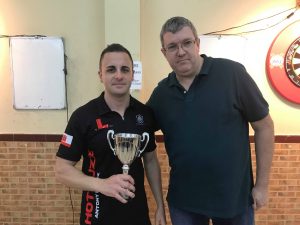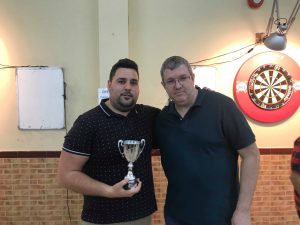 Preliminary Round Results
Carlos Muñoz 3-0 Desmond Cunningham
Alan Kimberly 3-1 Francis Taylor
Antony Lopez 3-0 Francis Remorino
Dylan Duo 3-0 Joseph Sanchez
Adam Roche 3-1 Chris Dalli
Christian Tosso 3-0 Kearon De Los Santos
Shaine Israel 3-0 Kydon Hanglin
George Federico 3-0 Steve March
Manuel Vilerio 3-0 Adam Orfila
Ethan Smith 3-0 Isven Efigenio
Jayce Asquez 3-0 William Pisani
Jarvis Bautista 3-1 Jeremy Cruz
Justin Hewitt 3-0 Luie Gaivizo
First Round Results
Carlos Muñoz 3-1 Alan Kimberly
Antony Lopez 3-0 Dylan Duo
Sean Negrette 3-1 Jimmy King
Justin Broton 3-1 Angel Debono
Christian Tosso 3-1 Adam Roche
Shaine Israel 3-1 Shane Smith
Dyson Parody 3-0 Steven Borge
Roy Asquez 3-1 Eric Asquez
Manuel Vilerio 3-2 George Federico
David Francis 3-0 Ethan Smith
Dayle Ramirez 3-0 Kean Olivero
Harry Parody 3-2 Karl Mena
Jarvis Bautista 3-0 Jayce Asquez
Justin Hewitt 3-0 Des Darlington
Johnny Remorino 3-1 Karl Sene
Tony Dawkins 3-0 Darren Olivero
Second Round Results
Antony Lopez 3-0 Carlos Muñoz
Sean Negrette 3-1 Justin Broton
Christian Tosso 3-0 Shaine Israel
Dyson Parody 3-1 Roy Asquez
David Francis 3-0  Manuel Vilerio
Dayle Ramirez 3-0 Harry Parody
Justin Hewitt 3-2 Jarvis Bautista
Tony Dawkins 3-1 Johnny Remorino
Quarter-Final Results 
Antony Lopez 4-0 Sean Negrette
Dyson Parody 4-1 Christian Tosso
David Francis 4-1 Dayle Ramirez
Justin Hewitt 4-1 Tony Dawkins
Semi-Final Results
Antony Lopez 5-1 Justin Hewitt
Dyson Parody 5-4 David Francis
Final
Antony Lopez 6-0 Dyson Parody
180's
David Francis x6, Dyson Parody x4, Sean Negrette x3, Justin Hewitt x2, Christian Tosso x1, Jimmy King x1, Justin Broton x1.
High Finishes (100+)
Dyson Parody 155, Justin Hewitt 132, Jimmy King 114.
Below is the updated order or merit..