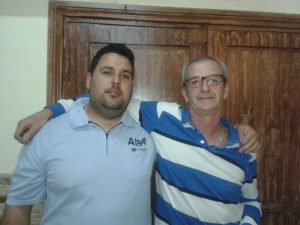 The GDA's second Ranking Tournament of the season, the Masters Singles saw a record participation of 52 players.
A high standard was seen throughout the night, with some very close matches.
Of the four seeded players only the two finalists progressed beyond their respective boards. Seed Nº 3 George Federico fell at the first hurdle losing a very close 1st Round match to Roy Asquez 3-2. Seed Nº 4 Justin Broton progressed to his board final, losing 4-1 to Antony Lopez.
In the Semi-Finals Dyson proved too strong for Antony Lopez, winning 5-2 which included a 170 checkout. The other Semi was a closer match between Manolo Vilerio and veteran Angel Debono. Manolo eventually claimed a 5-4 victory but it was great to see Angel back there at the top.
FINAL
Dyson Parody Vs Manolo Vilerio
Manolo won the bull and started the match, claiming the first leg on Double 16 after throwing a 180 maximum, with Dyson still requiring 186. Dyson also threw a 180 in the 2nd leg and took out a Double 20 leaving Manolo on 71 and equalising the match. The next 3 legs alternated between them, with Dyson breaking throw in the 6th and pulling out a 4-2 gap. Manolo responded well, claiming the next 2 legs, equalising after a 121 checkout on the Bull. Nerves began to show over the next 2 legs, which they claimed one each after a total of 14 missed doubles. Score 5-5.
This set up a tense deciding leg with both players scoring strongly. Manolo narrowly missed his chance to claim the title missing Double 20 with his dart touching the wrong side of the wire. Dyson then took out the winning Double 20 with his 2nd dart to claim victory and the 21 Ranking points.
A total of 17 x 180's were thrown and 7 x 100+ finishes recorded. 180's – Manolo Vilerio x 3, Dylan Duo, Dyson Parody, Tony Dawkins, Justin Stagno x 2, David Francis, Jerome Duarte, Charles Borastero, Jadrian Pecino, Justin Broton, Angel Debono x 1.
HF's – Dyson Parody 170, Manolo Vilerio 138 / 121, John Charles Segui 106, David Francis 104, Angel Debono 103, Ethan Smith 100
Route to Final;
Dyson Parody defeated Varian Israel, David Francis, Justin Stagno, Antony Lopez.
Manolo Vilerio defeated Kearon De Los Santos, Craig Galliano, Dylan Duo, Angel Debono.
Commiserations to Manolo Vilerio, Congratulations to Dyson Parody!