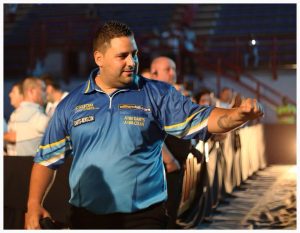 Call 8942 to vote for Dyson Parody!
Last year's GBC Sports Awards runner up Dyson Parody has been nominated for the awards for a second consecutive year.
Dyson has been nominated for making the quarter-finals of the Gibraltar Darts Trophy last year. He defeated three top professional dart players including two world champions on the way. He eventually lost to the world number one and current world champion Michael van Gerwen 6-5 in a thrilling game.
The achievement of making the quarter-finals of an elite professional event is what has earned him this nomination, along with his local dominance.
If we are correct his quarter final appearance must be the best result for any Gibraltarian at any elite level sport, competing with all the greatest players in the world.
Below is the YouTube link to his great match with Michael van Gerwen!