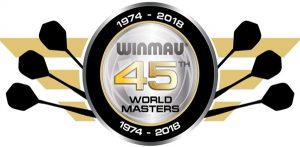 In the last 128 Justin Hewitt beat a player from Belgium 3-0 hitting 2 maximums 180s in that game . In the last 64 Justin beat a very good player from Republic of Ireland, who the next day finished joint 5th in the wimmau youth world masters by 3-2 . In this game Justin played very well hitting 2 maximums 180s again and finishing well . In the last 32 he lost 3-1 against a good player from Holland although he had his chances too . He finished in a brilliant joint 17th position.
In the wimmau youth world masters Justin beat a player from Denmark 4-0 in the last 128 he played very well hitting once again a maximum 180 and finished the 1st 3 legs with his 1st dart and the 4th keg with his 2nd dart . In the last 64 he played against an elite English youth player by the name of Leighton Bennett . He is by far one of the best youth players in the world , any many are saying that he will be a future world champion with the men . This youth won all his games 3-0 in the lakeside world youth championship to reach the final where he will be playing on stage in the pro. World championship in lakeside . Justin lost to him 4-3 in what was one of the best games that Justin has played in his life . Both players where hitting 100 plus scores nearly all the time and finishing brilliantly . Justin had 3 darts to win the game but missed double 4 narrowly .justin performance in that game was world class. Which proves that our youth players are among the best players in the world . Justin's average was over 90 and he hit the outer bull twice for a 161 and 132 finish. Impressive performance all week .
In the world pro lakeside youth singles
Sean Negrette lost 3-2 in the last 128 against a player from Scotland . Sean started the 1st leg with 125 – 125 and finished the leg in a 15 darter. He went 2-0 up hitting big scores . He lost the game only because he was very unlucky in not hitting the doubles in the last 3 legs .
In the wimmau world youth masters.
In The last 128 Sean got a bye. In the last 64 Sean beat a player from England 4-0 . Sean played brilliantly in this game hitting two 180s , hitting high scores and finishing very well . He even did a two 16 darters. Impressive performance by Sean . In the last 32 he was very unlucky to have been drawn against the current youth youth Europe cup singles champion and one of the top players in the world . Sean tried his best and played a good game but coudent do much against a player who did a 14 15 and 16 darter . He lost 4-1 . This player went on to win this world masters the next day . Sean finished in a brilliant joint 17th position. Impressive by Sean .
Joseph ward gave it his best in both lakeside and world masters but lost both games in the 1st round .