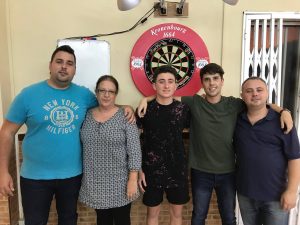 The Johnny Neale Charity Singles event took place at the Varyl Begg Social Club on the 24th of October with a great turnout of 34 players.
The competition dedicated to the local legend enjoyed a high standard of play throughout the night. Dyson managed to overcome some tough opposition to make his way to the final. In the final he managed to get the better of Justin Broton with a 2-1 win in the deciding leg.
Results below:
Quarter Finals
Dyson Parody 2-0 Craig Galliano
Justin Broton 2-0 Harry Parody
Jerome Chipol 2-1 Roy Asquez
Jarvis Bautista 2-0 Julian Teuma
Semi Finals
Dyson Parody 2-0 Jarvis Bautista
Justin Broton 2-0 Jerome Chipol
Final
Dyson Parody 2-1 Justin Broton
Congratulations to Dyson Parody and commiserations to Justin Broton!