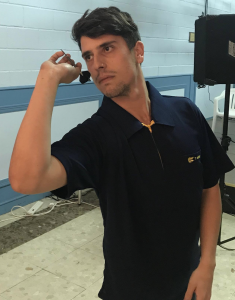 Jarvis Bautista will be playing amongst the Worlds top 64 qualifiers at this years PDC Under 23 World Championships.
Jarvis earned his spot by defeating 2x Gib Open Youth winner Jeremy Cruz in the final. The final took place during the PDC Gibraltar Darts Trophy on the main stage back in May.
Jarvis has had some other good runs this season, his highlight was making the semi finals of the Gibraltar National Championship. Jarvis will be traveling over to Wigan (UK) accompanied by GDA Youth Chairman and GDA Vice President Alex Nuñez on the 3rd of November, Jarvis will make the most of the development tournaments on the Saturday and Sunday before making his debut at the World Championships on Monday the 6th of November 2017.
We recently caught up with Jarvis and he quoted to us "I feel good, excited and can't wait to get started" We also spoke to Alex Nuñez who had this to say. "Last year we were given a place at this years PDC under 23 World Championships. This is due to the hard work the youth committee has done since its revival gaining recognition from the PDC."
We would also like to thank Tommy Cox from the PDC who was instrumental in achieving this place for us.
The GDA wishes Jarvis the best of luck!