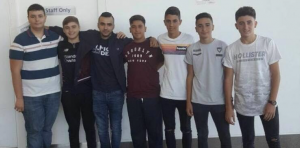 On the 22nd of September Gibraltar's top youth players headed off to Bridlington,UK. Craig Galliano returned for a second year by retaining the league local title. National Champion Justin Hewitt made his much anticipated debut alongside other top youth players which included Jerome Chipol, Ethan Smith and Sean Negrette. Joseph Ward also joined in for the open events.
Our boys threw exceptionally well all week. On the first day at the men's British Classic Ethan Smith managed to pass two rounds. This was mainly to his brilliant display of finishing under pressure.  On day one we also saw Justin Hewitt take on a top competitor in Daniel Ayres. Young Hewitt didn't make things easy for Ayres, after a brilliant display of scoring keeping him under immense pressure, and not giving any legs away easily.
The second day at the Men's British Open both Justin Hewitt and Jerome Duarte Chipol, managed to perform some of their best darts by impressively winning their first and second games in remarkable fashion. (Results below)
On Day three at the much anticipated Boys Winmau World Masters. The boys didn't have the best of days on their doubles as best performance on this day came from Justin Hewitt as he crashed out of the competition against another top competitor in Daan Bastiaansen (NED) 4-3 in what was a thrilling game.
After the World Masters the boys has a two day break to enjoy and reflect on their mistakes. But during this time they managed to really enjoy themselves during the break they spent some time in an indoor swimming pool in which they were also joined by their national Dutch friends Levy and Jesper in what was a great day out. Photo below: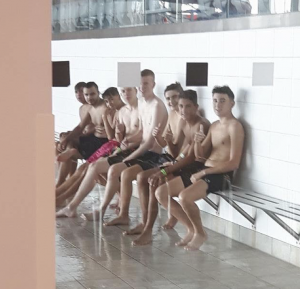 The Final day staged the BDO Youth World Championships, after the two day break, all the Gibraltar players managed to turn up and perform to their standards. Sean Negrette managed to break the ice after winning his first game of the week, setting himself up for a great tournament run after beating his fellow country man Ethan Smith.
Craig Galliano managed to perform to his best on the last day too, by securing the best individual result ever achieved by a Gibraltarian youth player abroad. Craig Galliano made the quarter finals. In the last and final day we had also seen these four players make it into the last 32 of the World Championships, Sean Negtrette, Justin Hewitt, Jerome Duarte and eventual quarter finalist Craig Galliano.
Craig Galliano continued to progress by defeating top Swedish player Hampus Norrstrom in a nerve racking thriller 3-2. He them booked a meeting with the world's best youth player in Justin Van Tergouw in the Quarters. Craig missed darts at a double in the first leg. But the Dutch managed to punish him quick to secure a 3-0 win and progress to the final.
The GDA Youth Section would like to take this opportunity to thank all our sponsors for making this trip possible for the future stars of Gibraltar Darts.
Big thanks to: Resstso Co Ltd, Unite the Union, Kenneth Navas Solicitors and Barristers, Hassans and partners, Montagu Group, Ace Plumbing, Diane Fisher, Robvia Ltd, Caterpac. We would also like to thank the GSLA for their continued support.
Men's British Classic Results
Last 1024
Ethan Smith 3-2 Marc Lyam (ENG)
Daniel Ayres (ENG) 3-1 Justin Hewitt
Adrian Welsh 3-0 Craig Galliano
Last 512
Martin Bradbury (ENG) 3-1 Sean Negertte
Thibault Tricole (FRA) 3-1 Jerome Duarte Chipol
Ethan Smith 3-2 Marc Lyam (END)
Last 256
Justin Broton 3-2 Ethan Smith
British Open Results
Last 1024
Gary Eagle 3-0 Ethan Smith
Jerome Duarte Chipol 3-1 Braedan Campbell (CAN)
Nick Stephenson 3-0 Sean Negrette
Stuart Hall (ENG) 3-0 Joseph Ward
Justin Hewitt 3-1 Jozsef Ori (HUN)
Luke Homes (ENG) 3-1 Craig Galliano
Last 512
Jerome Duarte Chipol 3-0 Steve Riches (END)
Justin Hewitt 3-1 Steve Hayers (ENG)
Last 256
Carl Wilkinson (ENG) 3-1 Jerome Duarte Chipol
Matthew Dicken (ENG) 3-2 Justin Hewitt
Youth Winmau World Masters
Last 128 
Bradley Brooks (ENG) 4-1 Jerome Duarte Chipol
Nathan Potter (ENG) 4-1 Sean Negrette
Daan Bastiaansen (NED) 4-3 Justin Hewitt
Kieran Simpon (SCO) 4-0 Craig Galliano
Ethan Smith – BYE
Last 64
Nathan Girvan (SCO) 4-1 Ethan Smith
BDO Youth World Championships
Last 128
Craig Galliano 3-1 Federico Urbani (ITA)
Sean Negrette 3-2 Ethan Smith
Jerome Duarte Chipol 3-0 Damian Coaker (ENG)
Justin Hewitt  BYE
Last 64
Craig Galliano 3-1 Anick Socnichsen (DEN)
Sean Negrette 3-2 Stephen Bheeran  (IRE)
Justin Hewitt 3-0 Freddie May (ENG)
Jerome Duarte Chipol 3-1 Nathan Grivian (SCO)
Last 32
Craig Galliano 3-2 Tom Dawson (ENG
Owen Roelofs (NL) 3-2 Sean Negrette
Kieran Simpson (SCO) 3-1 Justin Hewitt
Roy Rietbergen (NL) 3-1 Jeome Duarte Chipol
Last 16
Craig Galliano 3-2 Hampus Norrstrom (SWE)
Last 8
Justin Van Tergouw (NL) 3-0 Craig Galliano