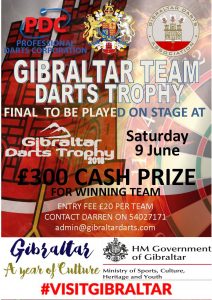 Fancy playing on the same stage as your darting heroes?
The Gibraltar Darts Association invites Teams to register to play in the Gibraltar Team Darts Trophy.
This event will be played as Teams of 6 players in a knockout competition, culminating in the final being played ON STAGE at the PDC Gibraltar Darts Trophy, on Saturday 9th June!
In addition to playing on stage in front of the fans, all 12 finalists will receive a weekend ticket for the Gib Darts Trophy and there will be £300 prize money to share among the winning team as well as trophies.
Registration is only £20 per team, so start forming your team of 6 players (anyone working or residing in Gibraltar) and sign up! Closing date is 30 April.
Contact Darren on 54027171 or admin@gibraltardarts.com