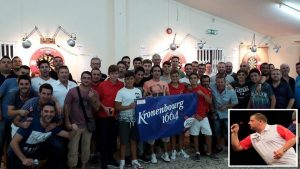 A healthy 48 players took part in our recent main sponsor's event, the "Kronenbourg 1664 Singles".
Dylan Duo claimed his first ranking title of the season. He managed to take out some top opposition in beating, Shane Israel, 10x National Champion George Federico, Tony Dawkins and current National Champion Dyson Parody, to book his place in the final.
Runner-up Manuel Vilerio Snr, also booked his place in the final with wins over, Alex Nunez, Youth Champion Craig Galliano, Takahashi Shimidzu and Justin Stagno to face Dylan in the final.