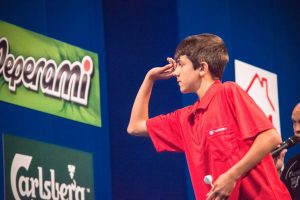 A Gibraltar squad comprising of Dyson Parody, Dylan Duo, George Federico, Alex Nunez, Justin Broton, Takashi Shimidzu & Craig Galliano will be heading off to the 43rd Winmau World Masters this coming week. The event, which runs from the 2nd-4th December will take place at the Lakeside in Surrey and will be televised LIVE by Premier Sports UK.
Craig Galliano will play in the Youth Boys event with the rest of the squad taking part in the Mens Event. It will be Craig's first time taking part in the World Masters and in a recent chat with him he told us how he is feeling about the forthcoming event.
"I am really excited to be taking part in such a big event. It will be my first time participating at the World Masters and I am looking forward to it."
He added, "I qualified to take part in this event by winning the 2016 Youth National Champion event and I want to prove that I deserve my spot. I have been practising hard the last couple of months and I am ready to go, I will be happy if I get a couple of wins and get to the last stages of the Boys event, but who knows maybe I could go even further and reach the finals."
"I will gain a lot of experience from this event regardless of the results. I hope to qualify again for the next couple of years and then hopefully move on and take part in the Men's Event."
Good luck to the Gibraltar Squad!