With less than three weeks to g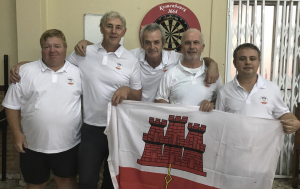 o until the start of the WDF World Cup, the Gibraltar team are looking forward to this massive event. Ignoring the 12 hour flight, there is the thrill, excitement and challenge of playing the best darts teams in the world.
The event starts on Tuesday 3rd October in Kobe, a city that is mostly remembered for the devastating earthquake of 1995, when more than 6,000 people lost their lives. The city has been rebuilt over the last 22 years, and now welcomes players in various top sporting events, of which the Darts World Cup is only the latest.
The Gibraltar team of George Federico, Justin Broton, Manolo Vilerio & Tony Dawkins, with team manager Darren Olivero will be aiming to at least equal the recent success of the youth team who did so well in the Europe Cup. We might be a small nation, but we are aiming high!
Good Luck to the Gibraltar Team and safe travels!